Winning a competition is always good news. But winning a competition you get to plant your own tree at a National Park is beyond everything you can dream of.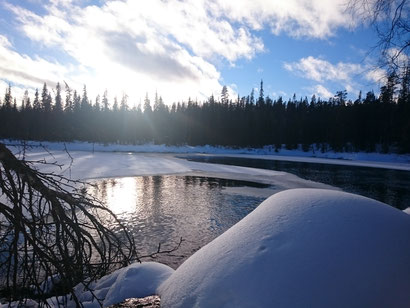 Visit Finland is best known for competitions. Following their social media accounts, one special post popped into my eyes. "What is your favourite National Park in Finland and why? Tell us below for a chance to win your own tree from Nuuksio National Park and a trip to Helsinki." I couldn't hold back.
It's no big secret that my favourite National Park in Finland is Pallas-Yllästunturin kansallispuisto. I've spent so many hours snowshoeing, walking and hunting northern lights in that area during my winter season. My roommate and I used to explore the trails, taste the pastries in the small cafés and grilled sausages at some of the many beautiful fireplaces. Frozen lakes, small frozen waterfalls, snowy trees and the clear sky with starry nights and northern lights made my heart jump. Being alone in the forest somehow made me feeling safe. Once again I lost my heart to the Finnish nature, this time in Lapland.
So I let Visit Finland know and I couldn't believe my luck when I got a message that they picked me as one of the winners. I decided to ask my dad to join me, since he's the reason for me being passionate about Finland. He was happy to come along.
Everything was organized by Visit Finland and we set off to Helsinki on Friday. There was enough time to explore the city since we only had a fixed programme for Saturday.
We had a pick up from our hotel and there we met the other two winners, Michelle from Germany and Marianne from Denmark. The transfer to Haltia by car took about half an hour. We were happy to attend the official opening ceremony of the Finnish Nature Day. We got to hear the new song and saw the drawing up of the Finnish flag for nature and after the ceremony we got a brief introduction of the suomen luontokeskus at Haltia by Tom Slänniemi, the director of the Nature Center.
After a typical finnish lunch it was time to set off to plant our tree at Kattila – how exciting! Every winner got to plant their own little oak. I was very surprised by the sign we got along with the tree saying "this oak was planted by Anja Degiampietro 26.08.2017". I felt very honoured and just very happy. 
To celebrate Finnish Nature Day at its best we hiked from Kattila to Mustalampi. YL male voice choir and Tapiola choir were performing together on the rocks. I didn't quite understand all the Finnish lyrics, but it was impressive anyway. We were invited to join the evening programme also and my father and I couldn't resist the picnic style dinner under the sky and the Finnish sing-along. There was enough time to explore the Nature Centre before dinner and it was well worth it. The exhibitions are carefully and beautifully made and tell about nature from all over Finland. The building itself is stunning since it's built entirely of wood elements.
We really enjoyed the picnic style three course dinner and the sing-along. I even remembered some of the songs from the scouting group I was a member of during my exchange year in Turku. The dinner was delicious.
We headed back to Helsinki by bus and train. It's a simple journey and it takes about 45 minutes.
We spent an amazing day at Nuuksio Nationalpark. I will definitely come back not only to see my oak growing but also to hike the trails and explore the wilderness. They even host the most southern reindeer population in Finland. Okay, it only consists of about six reindeers…but still…
Thanks to all the lovely people we met that day, especially Tuula and Katja who were exceptional hosts and told us all we needed to know about the National Park. Thanks to Anneli at Haltia who made sure we didn't miss out on anything in the evening. Last but not least massive thank to Visit Finland for realizing the trip. 
Some pics are made by my dad.